In the ten months since concluding their sold-out, inaugural U.S. tour, the six-member boy group P1Harmony, consisting of Keeho, Jiung, Theo, Intak, Soul, and Jongseob, has been hard at work for their second one. Nowhere has their increased popularity and improvement as a group been more clear than on the stage at their 2023 P1Ustage H: P1ONEER Live Tour. Returning to the same city they kicked off their first-ever tour, the group delivered an electrifying performance for P1ONEER's (pronounced "P-one-ear") New York City stop at Terminal 5 on February 5.
Around 3,000 fans, called P1ECEs, lined up in the near-freezing weather prior to the standing room-only show – some had even been camping since the early morning. This was nearly double the capacity of The Town Hall, where P1Harmony last performed in the city. In spite of the chaos that ensued when the venue randomly announced $140 barricade upgrades for general admission ticket holders, which put them ahead of VIP holders, New York P1ECEs still brought their own high energy to welcome P1Harmony back to the Big Apple.
Kicking off the night was British pop-rock band New Hope Club, who were announced to be the New York show's surprise opener the day before. The trio, made up of members George Smith, Reece Bibby, and Blake Richardson, performed at the Haus of Wonder Festival in Korea back in August alongside P1Harmony and did the group's comeback dance challenge on TikTok. They warmed up the audience with an acoustic set, starting with "Call Me A Quitter" and their most recent single, "Don't Go Wasting Time." 
The band then transitioned into a stripped-down rendition of "Permission." P1ECEs were charmed when they cheekily mashed the song up to P1Harmony's "Do It Like This," by surprise. Once the audience caught on, they danced and sang along loud and clear. New Hope Club then closed their set with their song, "Know Me Too Well."
Soon after, the lights dimmed and a VCR resembling a glitch in the Matrix played on the floor-to-ceiling LCD screens spanning the entire stage (a drastic upgrade from the single small screen from the last tour). A disembodied female voice shook the venue: "An unknown place…where nothing exists. Need. Breathe. Energy. Harmony," she said. The impressive animations transitioned from green sparks to neon smoke and finally into a red sun, to which the P1Harmony boys entered the stage and immediately captivated the audience with their commanding presence. It was an apt introduction for their first song of the night, "Look At Me Now."
The powerful, electric guitar of the song fired up P1ECEs, and the group transitioned seamlessly into "Back Down," the title track from their most recent release, Harmony: Set In. It provided the boys the opportunity to show how sharp and synced their movements were while highlighting their individual styles and talents – a theme for the concert. Next up was "Scared," which featured an explosive dance break and had Jiung center stage to hype up the crowd. Soul's own skillful dance solo was another standout part of the short performance that left P1ECEs in awe.
The entire venue was roaring before P1Harmony even got a word out for their opening statements. Each member was met with deafening screams as they introduced themselves one by one. "Thank you guys for coming out regardless of the cold, regardless of the weather. We really appreciate it. We'll make sure to make you guys extra hot today," Keeho greeted to thunderous shrieks. "Last year we really wished to come back and perform in front of our New York P1ECEs and we are so, so, so, so very grateful and honored to be able to accomplish that wish and dream so early into the new year."
Rounding out their introductions, the boys then surprised the fans with a performance of "나도 그래 (Me Too)," a softer, mid-tempo track from their P1-POST mixtape series. Keeho noted that it was one of his favorite songs to perform live and that it was their first time performing it on the P1ONEER tour up to that point. "We've been expressing ourselves through the tour, but the song 'Me Too' is us sharing our feelings even though it is hard to show," Jiung commented in a later ment. P1Harmony then launched into the fan-favorite hit, "Doom Du Doom," with Intak's rapping front and center. The performance was magnetic for audience members, who couldn't look away.
Taking a break to catch their breath after such a fiery performance, the boys chatted with attendees and did a little fanservice by putting their own funny spins on aegyo. Keeho joked that New York was lucky – this was the first time on the tour that every member yielded to the cutesy requests.
Reining the crowd back in, the boys then launched into a powerful performance of the energetic hip-hop track "End It," which was full of contagious youthful energy. The choreography made full use of the stage, and Keeho and Theo's passionate complementary vocal runs had fans going wild. They kept the high energy going with "Black Hole." The dynamic dance moves set against a planetary background on the jumbotrons made the stage seem otherworldly.
After a brief intermission VCR where the boys got to show off their acting skills, it was time for the solo and unit stages. First to take the spotlight was Theo, who dazzled the audience with a soulful cover of DEAN's romantic song, "21." Soul followed with a tender and solemn cover of JOONIL JUNG's "Hug Me." The stage setup was a highlight of the performance, with the jumbotron framing Soul with a background of a bedroom window with a moonlit night sky.
Keeho switched the mood with Beyoncé and Jay-Z's funk-inspired hit, "Déjà Vu." The song was the perfect platform for his unique vocal tone and range to shine. The groovy feel was kept alive when Jiung, decked out in a black sequin suit, took the stage for his homage to Michael Jackson's iconic "Love Never Felt So Good." After singing the first verse and chorus, Keeho and Soul then joined Jiung to bring the harmonies. Soul, wearing a bowler hat, added his own flair to MJ's signature dance moves including a split and the moonwalk.
It was a hard act to follow, but Intak and Jongseob delivered the concert's biggest jaw-dropper with their "Bow Wow" original rap stage. Clad in white fur coats and illuminated by red lights, the duo presented their skill and braggadocio-style flow. P1ECEs were calm until Intak and Jongseob paused to don the black muzzles – yes, you read that right – that hung around their necks to close their performance. When they left the stage, Terminal 5 was echoing with the sound of P1ECEs barking.
Recapping their solo stages after an outfit change, Keeho noted how having fans singing and dancing along to the familiar songs made it feel like they were up on stage with them. When P1ECEs in the front row began clamoring to be "chosen," he quickly backtracked, laughing, "I'm kidding! I'm not picking anyone to come onstage!"
Once all the members were ready and changed, the group went into their debut song, "Siren." They then transitioned into the confident and cool dance track, "Mirror Mirror." When it came time for "BFF (Best Friends Forever)," the crowd was up and dancing. Despite the song being one of the more recent B-sides, P1ECEs knew the catchy chorus by heart, effortlessly shouting the lyrics, "볼륨을 up, I wanna hear your voice, 'cause you know you're my BFF!"
Terminal 5 was buzzing with energy, and the boys leaned into it for the next song, "Follow Me." When the bouncy snares of the song's intro started, Keeho taught the audience a simple 'get low then jump' dance move (which he previously teased at the tour's press conference) to be done at the chorus immediately after the bridge and gave them a challenge: "Let's see how crazy you can get!" The fans didn't disappoint – each level of the venue literally shook with the impact of fans' jumping. "You guys are amazing!" Jiung exclaimed as the guys caught their breath following the performance.
"I know today we have a second and third floor as well. Those floors were also very high energy. I was scared the ceiling was gonna fall down," Keeho commented.
Next on the setlist was "Gotta Get Back," the group's collaboration with American singer Pink $weats. Jongseob taught the audience another dance to follow along with in the chorus. Once the crowd mastered the dance, the boys sat down in pairs at the left, right, and middle of the stage to perform the love song as if they were serenading fans one on one. With P1ECEs in a happy mood still, the boys went into "Nemonade," a fun, rebellious funk-pop anthem about living freely. "The vibe is great!" said Intak afterward to cheers and whoops. "I like your passion, guys. New York is very passionate."
Finally, Jiung announced that it would soon be time for the last stage of the concert, a statement that was met with a chorus of "noooo" from P1ECEs. "Should we just start all over then?" he asked in response. When that earned affirmative cheers, Jiung jokingly got back into his starting power pose from "Look At Me Now" and began singing the song acapella. The other boys joined in with their initial parts as well.
Keeho jumped in with the dad jokes next to help tease the next song. "You know, a lot of people ask us in interviews and Q&As, 'What makes P1Harmony so special?' We always think, it's that 'Secret Sauce' that we have," he said, and the audience screamed in response. The band then launched into the track of the same name, once again exuding coolness. They followed with their hit, "Do It Like This," another lively fan-favorite song. P1ECEs went crazy for the iconic air drumming choreography and sang along to every word. When Intak held his mic toward the audience during the lyrics, "together we're the dream team," they screamed it back without missing a beat.
As fans awaited the encore stage, the screens played a never-before-seen video of P1Harmony's, "If You Call Me," with the boys singing around a fireplace and Christmas decorations. In contrast to the former song's chilled-out and romantic beat, the boys came running back onstage to the heavy guitar intro of "Breakthrough (Full Version)." Dressed in their tour merch and casual denim, the group forwent organized choreography to dance around the stage freely and headbang with attendees.
Afterward, in another vibe shift, the group moved into "Speaker," an upbeat ode to friendship from the P1-POST series. The song served as the perfect transition point for the ending remarks, which were full of gratitude for P1ECEs.
"Today was so fun. It was crazy," Theo expressed. "Thank you for today. Your cheers and energy will not be forgotten."
Jongseob echoed the sentiment. "New York – this time and last time, your energy is always so powerful. Today's chanting and singing along was the best. Thank you for making my beautiful memory, and see you again," he said, giving the audience a small salute.
Like Theo, Intak's remarks were short and sweet: "I won't forget tonight! I just wanna be with you guys forever. Please never forget today. I promise we will come back to New York!"
Jiung was met with reverberating barking as soon as the camera panned to him, making him break out into a wide grin. "Honestly, I think I'm the happiest one in the world. Whenever I'm with you guys there is a new type of energy that I'm getting and loving," he said, pointing to his heart. "This was the best Sunday I've ever had so thank you so much."
Soul's speech was also succinct but was unique to his endearing, oddball personality. He promised P1Harmony would return. Getting shy about his English, he turned to Keeho to translate the rest of his unconventional gratitude: "It's kind of like a 'TMI,' but I bought some very weird sunglasses yesterday. I'll show you guys online." Soul ended with a hand heart and a thumbs up and fans roared with their supportive screams.
Keeho delivered his remarks last. "First and foremost, thank you for attending P1Harmony's live tour. Last tour, New York was our first stop so we were very excited to come back. It feels like a cool, full-circle moment for us. Thank you for welcoming us with your love and energy." he said, almost in disbelief at how long, yet little time had passed. "We're just very, very grateful and thankful. It definitely was not the easiest thing to prepare for this concert and this tour, but you guys made it so worth it. I also just wanna say that your support is the reason why we were able to come back so thank you guys so much."
Following the emotional moment, the guys brought their fun, boyish spirit back to the stage with "One and Only." They headed directly into the crowd to take selfies, dance and accept gifts, however, due to the crowded standing room setup, P1Harmony was only able to interact with the first row. As a result, many fans tossed their gifts onto the stage once the group was safely back on and the boys graciously picked up and wore as many plushies, bracelets, and sunglasses (among other accessories) as they could.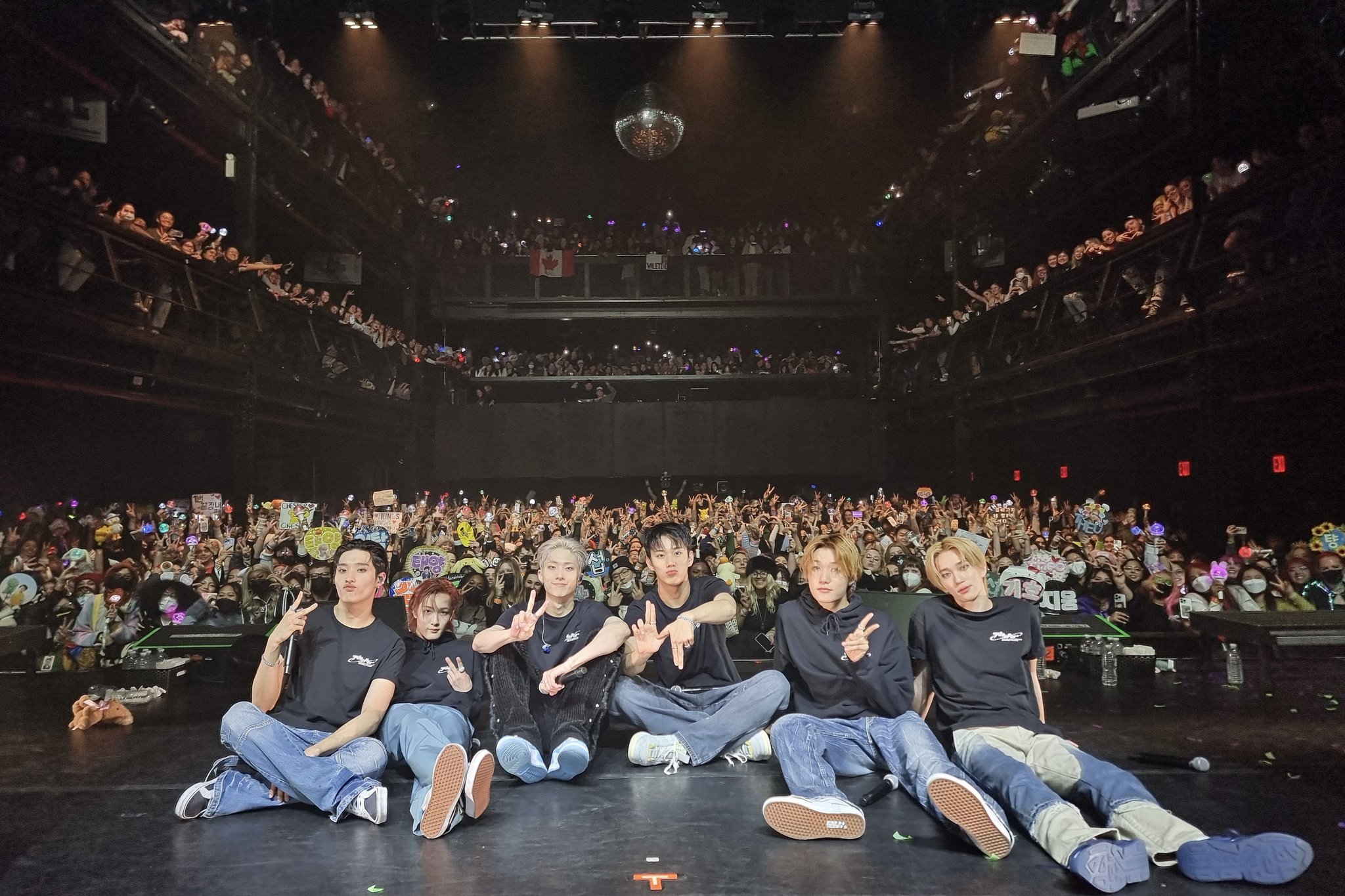 Closing out the night with "AYAYA," the group continued to play around with the gifts that continued to be thrown their way. Attendees jumped and shouted one last time at the song's final chorus before it was clear that the night had to end. It appeared that even P1Harmony had trouble saying goodbye as they prolonged their waves and air kisses and even sang "Happy Birthday" to a fan before finally exiting the stage.
"Thank you for creating this beautiful moment with us. I hope we made a beautiful moment for you, too," Keeho said at one point during the show. "Like our song, 'Speaker,' we as P1Harmony will always be by our P1ECEs side." The night was certainly one to remember, and New York fans will be sure to await P1Harmony's return so they can make good on that promise.