On July 16 and 17, Dreamcatcher reunited with their fans, InSomnias, at The Wiltern in Los Angeles for the last two-stops on their Apocalypse: Save us U.S. tour. As these were the final Stateside shows, InSomnias were more than willing to camp overnight and endure the scorching summer heat – some even wearing Dreamcatcher's official fandom robes. Unlike previous tour stops, the final show was live streamed online to allow global InSomnias to partake in the night's festivities.
Clad in beautiful red complementary outfits, JiU, SuA, Siyeon, Handong, Yoohyeon, Dami, and Gahyeon ignited the crowd with their opening number, "Maison." A call-out on the negative impact humans lay on the environment, the bold rock anthem opened the gates to Dreamcatcher's new Apocalypse era and served as the perfect opening number to pump up the audience. The stage was their domain as they led the crowd into "PIRI" and effortlessly belted their notes and executed their dance moves with ease.
The next set swapped out choreography for fan interactions as the girls walked around and serenaded the audience. After performing the retro synth-pop, "Locked Inside A Door," they segued into the charming "Jazz Bar" where rapper Dami's distinct vocals fit the jazz number like a glove. After performing "Always," SuA proudly shared that the fan song was a warm-hearted letter to their angels, their InSomnias.
Before moving on with the show, Dreamcatcher reflected on their momentous year. In April, Dreamcatcher secured the coveted first-place win on Korean music shows with "Maison." Earlier in June, Dreamcatcher made history as the first-ever K-Pop group to be invited to perform at Primavera Sound, the largest music festival in Europe. Despite all the accolades, the members remain ever humble and grateful to InSomnias for being the driving force behind their success. On that note, the girls segued into their progressive house track, "Can't Get You Out of My Mind." Performing the official English version in LA, they were pleased to hear InSomnias belt the lyrics, jump together in unison, and return their energy tenfold. Maintaining the crowd's momentum, Dreamcatcher jumped right into "Black and White" and resumed their choreography-focused performances with newfound energy.
For both Dreamcatcher and InSomnias, the group's return to LA held many cherished memories. Gahyeon said, "As much as we couldn't forget LA, I know our LA fans missed us too!" The city is home to their first U.S. activities with their Dream of US fanmeet and 2018 KCON LA appearance. In 2019, they returned for their Invitation From Nightmare City tour, albeit one member short due to Handong's individual schedules in China. Now they stand together as seven, ready to set The Wiltern ablaze with the fervor of an act that's born to perform.
Dami added that it was an honor for them to perform at the historic venue where thousands of famous singers have come before them. It was at that moment that an idea popped into Siyeon's head. As the room went silent, Siyeon wrapped the audience in a daze as she sang a live acapella performance of "City of Stars" from the 2016 award-winning musical film, La La Land. She happily reminisced when she first uploaded her song cover on Dreamcatcher's YouTube channel and found no better time to sing it live than in the City of Angels itself. When she and the girls are with their InSomnias, Siyeon shared that they "sparkle like the stars in the city sky."
The long-awaited 2022 tour is in conjunction with Dreamcatcher's monumental second full-length album, Apocalypse: Save us. Boasting a whopping 14-song tracklist, the album was the first full album release since Handong's return and the first album to feature self-written/composed solo tracks. One-by-one, the girls performed each of their song's "killing parts." As an added bonus, each member's performance was accompanied by personally signed balls that they flung into the audience.
The next set called for InSomnias to stand up, throw their "rock n' roll" hand signs into the air, and rock out to bangers "Break The Wall," "BEcause," and "Odd Eye." The songs boasted stunning dance formations, making it one of the most visually pleasing sets of the night. Dreamcatcher brought electronica and house music to The Wiltern with "In The Frozen, "Silent Night," and "Scream," effectively giving some InSomnias their very first taste of a rave.
Most concerts would scatter VCRs throughout the night to allocate time for outfit changes and breaks in between sets, however, Dreamcatcher's concert had none. "This is our ninth show but in the beginning I really thought 'How are we gonna do all nine shows?'" Gahyeon confessed. The girls remained onstage, engaged, and hyped, balancing their powerful dance stages with choreo-free sets and thriving off of their InSomnias' loud and proud cheers and fanchants. Yoohyeon commented, "This year is one of the longest tours ever, but thanks to you, instead of being tired, I was really happy!"
As the night was drawing to a close, InSomnias mustered their energy together for the fan favorite, "Deja Vu" and dynamic rock anthem, "BOCA." The screams and fanchants during "Deja Vu" was almost deafening, but justified for one of the most anticipated songs of the night! After snapping a series of commemorative group photos with the audience and an InSomnia-signed California flag (courtesy of their fanbase, 7-Dreamers), Dreamcatcher wrapped up the final act with the playful summer bop, "Airplane."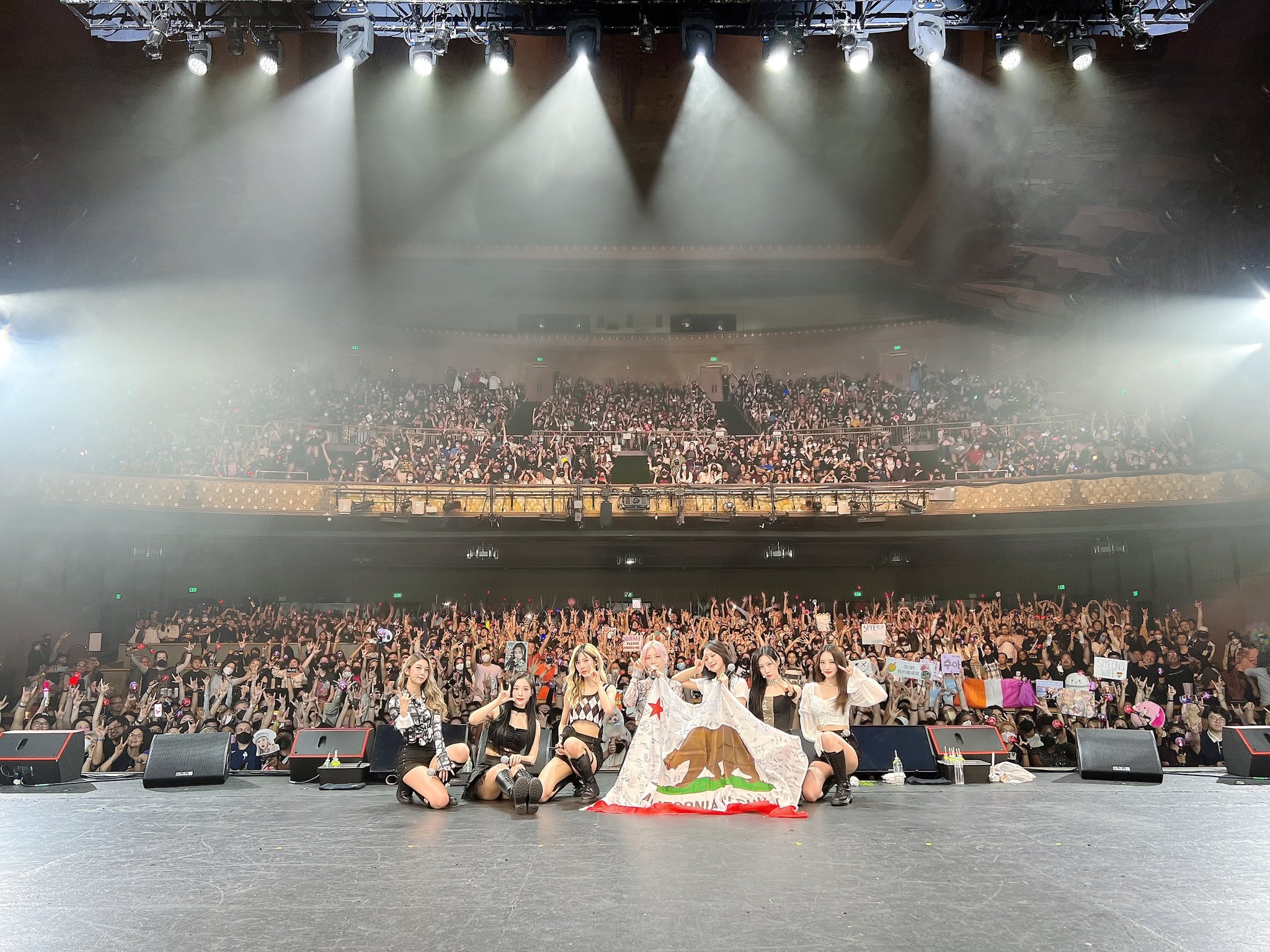 In a few short hours, Dreamcatcher came out and delivered, showcasing their multifaceted talent for embodying any genre that's thrown their way. For the encore stage of the night, Dreamcatcher whipped out their scarves for the powerful, anthemic, "Sahara" before letting loose onstage for their final hurrah with "Wake Up" and "Mayday," and "New Days." In between the chaos and banter onstage, a lucky InSomnia in the VIP pit came up with a clever way to get his present to JiU. Assembling multiple extension sticks together to form a mega lightstick that towered over the crowd, the fan placed his Judy Hopps hat from Zootopia onto the lightstick and skillfully carried forward until it was within JiU's reach. The impressive feat caught wind on social media and praised him for his efforts. After the explosive fanfare, Dreamcatcher's Apocalypse: Save us U.S. tour came to an end.
Between their dynamic choreographies and hyped stages, the concert truly put Dreamcatcher's stamina to the test and they passed with flying colors. Time will only tell when they will return to LA, but rest assured – InSomnias will be ready to dance along and headbang to every song once again.